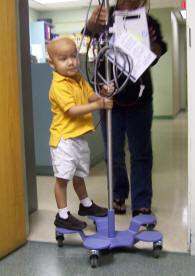 We are now in the 2nd week or Gabriel's two week daily chemo treatments. He has moved passed the sores in his mouth and bottom and is doing very well.
His treatments began last Monday (Oct 10th) with a two day stay in the hospital to receive a new chemo called Cyclophosphamide which they had to flush right away using an IV of fluids over a 24 hour period to prevent damage to Gabriel's Kidneys. They also did a spinal tap as well.
Tuesday (Oct 11th) he began a daily chemo called Cytarabine which he receives everyday for 8 days along with a medication named Thioguanine which we give him at home for 14 days. The daily treatments take a lot out of him for a few hours but after a short nap, he is back on his feet and ready to play.
Last Thursday following his chemo treatments he wanted to go to his brother Michael's high school football game. At the end of the game, Gabriel and his brother-in-law Lance were throwing the football and Gabriel ran a full 100 yards carrying the football to the goal line.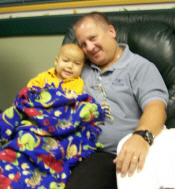 Today, Tuesday (Oct 16th) Gabriel had to get a blood transfusion along with his daily chemo because the chemo is pushing his blood counts down. We have 3 days left of this daily routine which Carol and I are anxious to come to an end. The hospital is 125 miles round trip everyday and is taking a bit of a toll on us. It gets very exhausting not to mention expensive going back and forth everyday. There is light at the end of the tunnel though. Gabriel is also very anxious to get the needle out of his port and is counting the night-nights. The doctors did not want to keep sticking him everyday, so they accessed his port with the needle and tube and taped it in place on his chest and only remove it at the end of each week.
This week will bring to an end the Delayed Intensification phase. They will do a spinal tap at the beginning of the next phase which is called "Maintenance Phase" and begin a new round of treatment but not as intense as this past phase.
Gabriel's spirits are great. He prays the rosary with us traveling back and forth from the hospital and tonight for the first time I heard him recite his "Guardian Angel Prayer". He has a little stuffed angel that when you squeeze him a child's voice prays the entire prayer. Each night before Gabriel goes to sleep he squeezes it 3 or 4 times. Tonight I heard this little voice praying "Angel of God my Guardian dear, to whom God's love commits me here, ever this night be at my side to light and guard and rule and guide. Amen!"
I had to smile and I thought to myself, the beauty of innocence that this little boy has and the strength he has been demonstrating in his spirit can only be possible by the divine presence of God in his soul.
We count our blessings everyday that God has lessened what these trials could be. Gabriel has experienced very little side effects to the chemo. When we were in the hospital with him last week, there were children there that could not leave because they could not tolerate the chemo and were constantly vomiting. Up and down the halls we heard them at all ages and hours of the night. Gabriel has not gotten sick once. He receives his chemo treatment, goes to sleep for a few hours, then is up and about running on a football field or playing soccer with his brothers. God has truly heard all of yours and our prayers during this dreadful trial.

We thank you for all your prayers, we know that it is the power of prayer that will see us all through this. (For a complete list of updates, see the Index of Updates on the front page of Gabriel's Website.)

If you have not yet checked out Gabriel's new website, make it a point to stop by.

God bless you and good night,
-Tom
"Whenever my enemy provokes me to combat, I try to behave like a soldier."
St. Therese, the Little Flower